The New York State Legislature recently announced changes to the Purchaser's Transfer Tax (commonly known as the "Mansion Tax"), and the New York State Transfer Tax, which were passed as part of the 2020 budget. The changes to the Mansion Tax will affect any real estate closings taking place after July 1, 2019, unless the transaction was in contract prior to April 1, while the changes to the NYS Transfer Tax are effective beginning April 1.
In order to help our clients make sense of the new changes, we compiled a handy chart showing how the changes to the tax apply. We hope it helps, and feel free to contact us if you have any questions. Are you a currently involved in a transaction and wondering whether or not these rates will apply to you? Good news – we have another handy chart for your reference here!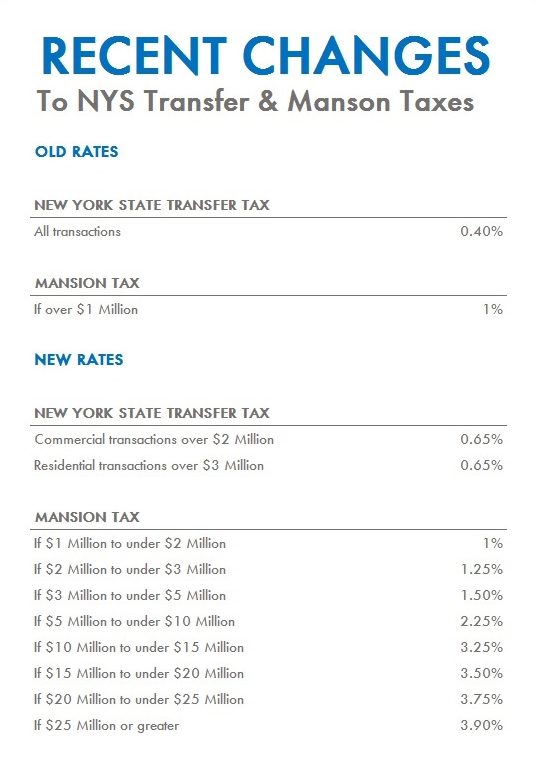 By now, you may have heard about the New York State's revenue legislation as part of the 2020 budget, which contains substantive changes to the Purchaser's Transfer Tax (commonly known as the "Mansion Tax") as well as the New York State Transfer Tax. The changes take effect for transactions that close July 1, 2019 and onward, with some caveats.
While the changes are clear on which transactions they affect (Purchasers of $2M and above and Sellers of $3M and above), current purchasers and sellers may be wondering how this will affect their own transactions if, for example, they are already in contract, or plan to close prior to July 1.
To assist with this, we put together an easy-to-follow chart to help our clients understand whether or not the new rates apply to their transaction. We hope that it is helpful, and please feel free to reach out to us if you have any further questions! If you are looking for more information about the substance of these changes, you can find out more here.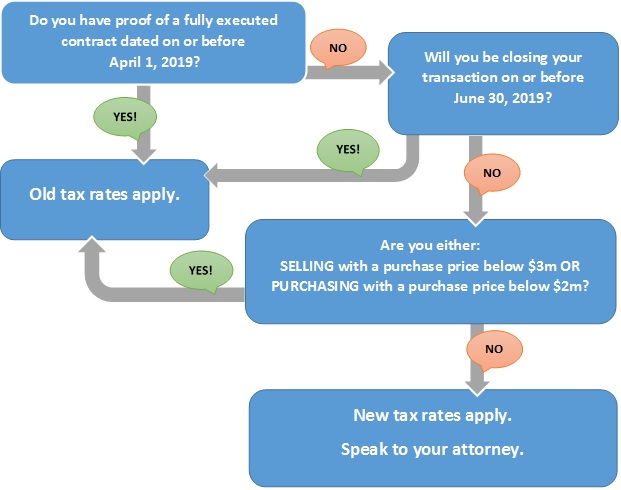 NYC closings generally take up to two hours to close when there is financing. During that time, buyers, sellers, their attorneys, transfer agents, and real estate brokers spend some amount of time eyeing the bank attorney – a collective mental push builds, urging the bank attorney to work faster, faster, faster.
However, a bank attorney's job is really two-fold: The first is to make sure closing documents are quickly processed, approved, and funded at the closing table. The second is to ensure those documents are accurate, consistent, and complete so there are no future issues when refinancing or transferring the loan after closing. The saleability of a loan is key for many lenders, so bank attorneys must balance these two jobs while keeping everyone happy.
The full loan package should be returned all at once with no lingering documents to follow. The items below are common requirements that should be double-checked at closing so that it is possible to submit a clean, complete loan package that helps your bankers and clients avoid common future pitfalls.
1. The Basics:
• Spelling of names, property addresses, loan amounts, signatures, and initialing the appropriate locations.
i. Be extra careful with the 1003 loan application, as signature sections can blend into the rest of the form.
ii. Some documents may require initials on every page (double check mortgages, rate lock agreements, notes).
• Any handwritten changes, if allowed, should be initialed in the margin.
2. For Houses or Condominiums: Stamp the mortgage as the "Certified True Copy" – this notation should not be handwritten.
3. For Cooperative Units:
• Triple check that all documents contain the correct number of shares.
• If the new stock certificate number is written in, have the borrower(s) initial this change.
• Include a copy of the recorded UCC1 in the closing package; the UCC1 should be recorded prior to closing.
• If a new proprietary lease is not issued for the borrower, each assignment of the original proprietary lease should itself be an original. Copies along the chain of leases/title may not be acceptable.
• Recognition Agreements should include the board members' names typed or handwritten with their title under the signature line. Double check that the loan amount matches on the first page, as loan amounts often change after recognition agreements are provided to the board.
• Best Practice: If any cooperative or bank documents were signed by Power of Attorney, try to obtain an original power of attorney for the closing package. Without an original power of attorney in the closing package, documents containing power of attorney language will need to be regenerated without them when the loan is later transferred or sold.
4. Best Practice When Name Variations: Including Name Affidavit(s) stating all name variations is best practice, even when not required by the lender to close.
5. CEMA Transactions: For a Consolidation, Extension, and Modification Agreement ("CEMA"), checking for typos and errors is additionally important.
• The Exhibit A (List of Mortgages and Assignments) should follow the mortgage schedule exactly. There should be no missing assignments, either previously recorded or to be recorded. Any assignments being recorded "simultaneously" should include the date they were created.
• The labels and stamps for the Exhibits should follow the lender's exact instructions. Stamping an original document improperly may cause the original to be voided and a loan package can then be deemed incomplete.
As bank attorneys for many lenders, loan processors, and closing departments, the above tips should serve as a general guideline only. Our office created specific bank teams dedicated to each lender we represent because the most important lesson we can impart is simply that each lender will have their own unique process and specific closing requirements. Taking care to review and understand the lender's requirements prior to closing will make all the difference for that lender afterwards.
PLEASE NOTE: This article is intended for informational purposes only and does not constitute the dissemination of legal advice. The deadlines and some of the legal language discussed herein is subject to negotiation between the parties involved and/or interpretation by a court of law. We encourage you to speak with the attorney handling your specific transaction for further details.